Student apprentice awarded Student of the Year at Agricultural Show
13th July 2021
Student apprentice awarded Student of the Year at Agricultural Show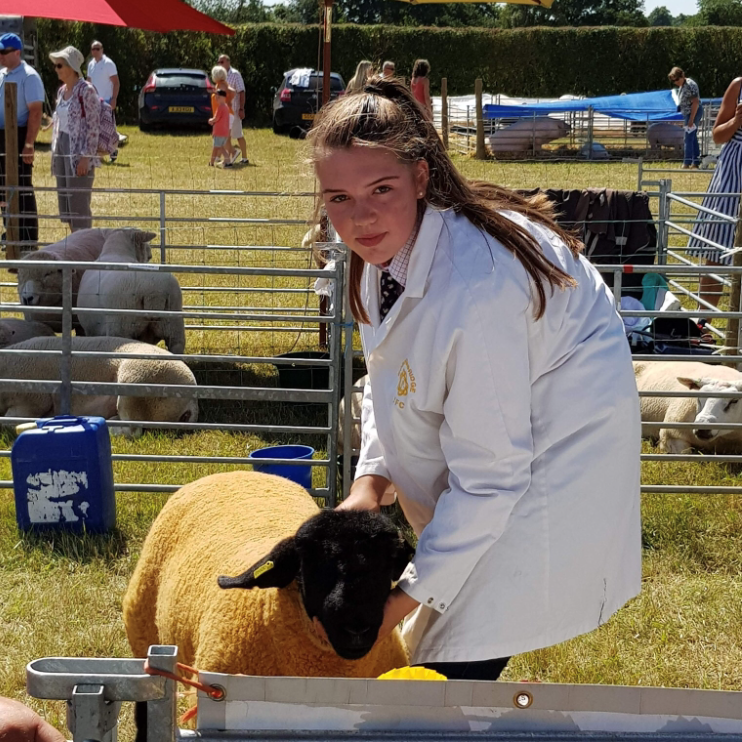 Date: 13th July 2021
Askham Bryan College student Anna Elgie has been selected by the college as Student of the Year for the Yorkshire Agricultural Society's annual awards.
A ceremony at this week's Great Yorkshire Show celebrates Askham Bryan College Agriculture Apprentice Anna Elgie and selected students from colleges in the north of England for their achievements. The agricultural society's awards recognise talented, well trained, and enthusiastic young people to the industry.
Anna said, "I am so delighted to receive this award. I hope my experience inspires young people to learn about livestock and importance of British farming. My study and training with Askham Bryan College paired with my work on the farm has prepared me for a career in my chosen area of this industry.  My journey can hopefully persuade the next generation the opportunities to become a farmer or researcher in agriculture."
Anna completed her Level 3 Livestock Apprenticeship with Askham Bryan College. She currently works with sheep, store cattle and goats for JB Ryder & Partners in Ripon and in her own words "loves it all".  She has her own pedigree Suffolk sheep with which she has been very successful and she would like to be able to expand on this in the future, as well having a commercial flock. She is an active member of Boroughbridge Young Farmers and in recent years she has reached National Champion with her stock judging skills.
Nigel Pulling, Chief Executive of the Yorkshire Agricultural Society, says, "The Yorkshire Agricultural Society is delighted to support the land-based colleges in our region who do such an excellent job of providing the knowledge and skills the next generation of farmers and agriculturists will need to meet the new challenges of the rural economy in coming years."
John Wray, Apprenticeship Course Manager, Askham Bryan College says, "Anna has always been consistent with her effort and interest towards her subject. We are confident that Anna has a fantastic future ahead of her in the industry and we look forward to hearing about her future achievements."